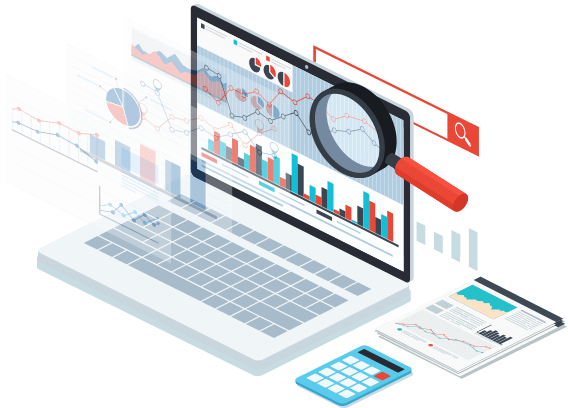 Know the Stats for 2023
Check out the consolidated market statistics which every business owner must refer to before entering 2023. A new year with new possibilities. But before tweaking your marketing plan, do analyze the research findings..
Digital influences 67% of purchases. -Google
57% of B2B marketers stated that SEO generates more leads than any other marketing initiative. -Junto
80% of B2B buying decisions are based on a buyer's direct or indirect customer experience, and only 20% are based on the price or the actual offering. -SiriusDecisions Summit
80% of U.S. marketers said they wanted to use integrated marketing and advertising technology from a single vendor. -Google
Most B2B buyers are already 57% of the way through the buying process before the first meeting with a representative. -Accenture
83% of business buyers say "being treated like a person, not a number, is very important to winning their business." -Salesforce
42% of B2B researchers make purchases on mobile, both at home and in the office. -Growrev
93% of B2B content gets zero external links from other websites. -Backlinko
45% of enterprises are investing more than $20,000 on SEO each month. -B2B Marketing Zone
Mobile marketing can accelerate time to B2B purchase by 20% -BCG
90% of B2B marketers say the leading attribute of content marketing effectiveness is "audience relevance" -Statista
Over 70% of B2B buyers start their search with a generic product keyword to compare options. And on average, it takes 12 searches before a buyer begins to interact with a given brand's website. -Thinkwithgoogle
90% of B2B stakeholders are "more likely to purchase a product after reading a positive review." However, only 20% of B2Bs consider using reviews as one of their B2B marketing strategies. -G2
80% of B2B executives research products or services on a tablet in the evening. -IDG Global Solutions
63% of buyers need to hear a company claim 3 to 5 times before they believe it. -G2
62% of B2B buyers make purchasing decisions based on online content alone. -Bluecorona
44% of B2B marketers say the main reason they abandon websites is that there's no contact info immediately visible. -Komarketing
80% of decision-makers prefer articles over ads as a source of information about a company. -Themarketingblender
People retain only 10-20% of the information they read or hear, but remember around 65% of what they see, after three days. -McKnight Kurland
69% of successful B2B marketers have a documented content marketing strategy. -Content Marketing Institute
78% of executives say that an unsolicited email has led to a face-to-face meeting or event attendance at some point. -ITSMA
84% of B2B decision-makers start the buying process with a referral. -Influitive
87% of B2B frontline sales personnel, 82% of sales leaders, and 78% of marketers believe that referrals are vital to sales success. -Influitive
85% of B2B marketers say lead generation is their most important content marketing goal. –RingLead
Hey ! You can register your business at www.nxtidea.com for FREE and grow your ROI as per changing customer needs.